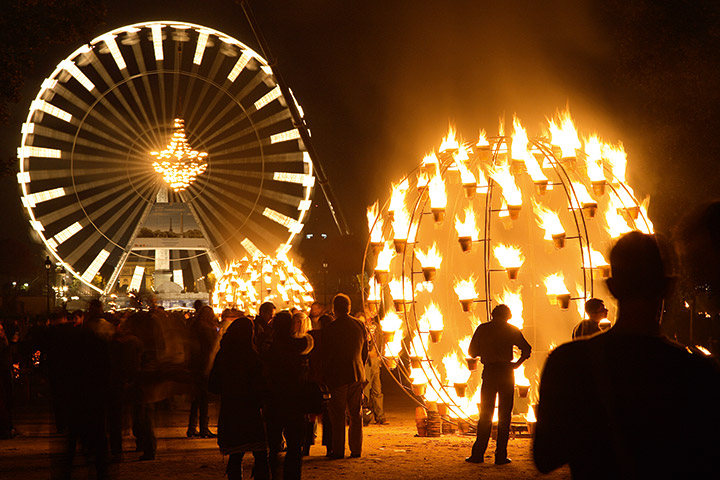 In Paris, culture is not confined to museums; it can also be discovered outdoors. A tour of these will introduce you to the works of artists from all periods: the fountains of Niki de Saint Phalle near to the Centre Pompidou, the Kiosque des noctambules by Jean- Michel Othoniel or the Buren columns at the Palais-Royal, Balzac by Rodin on boulevard Raspail, the Trois Nymphes by Maillol at the Jardin des Tuileries, etc.

Jardin de Tuilleries
The Tuileries Gardens get their name from the tile factories which previously stood on the site where Queen Catherine de Medici built the Palais des Tuileries in 1564. The famous gardener of King Louis XIV, André Le Nôtre, re-landscaped the gardens in 1664 to give them their current French formal garden style. The gardens, which separate the Louvre from the Place de la Concorde, are a cultural walking place for Parisians and tourists where Maillol statues stand alongside those of Rodin or Giacometti. The gardens' two ponds are perfect for relaxation. The Musée de l'Orangerie, where visitors can admire the works of Monet, is located south-west of Tuileries. From March to December, free tours in French are organized. For lovers of candyfloss, rides and thrills, go to the Fête des Tuileries from June to August.
Fontaine Igor Stravinsky
Founded by Jean Tinguely and Niki de Saint Phalle, the Stravinsky fountain uses water effects and colours to represent the work of the composer.
Jardin du Palais Royal
– Colonnes de Buren – Centre des Monuments Nationaux
Created by the Cardinal Richelieu in 1633, the Palais Royal and its gardens, just a short walk from the Louvre, housed royal families up until Versailles was built. Prestigious and peaceful, the gardens are surrounded by a superb futuristic architecture with contemporary sculptures by Buren and Bury. The Colonnes de Buren are situated in the courtyard, near the garden and Ministry of Culture. The 260 black and white striped octagonal columns are definitely worth a visit and are one of the symbols of Paris